Tango course

Dancing tango is walking embraced, speaking intimately, softly. A language without words, a unique body with four legs that search for each other. Tango teaches us that we are born to live together and that there is no more important thing than love. From the suburbs of Buenos Aires at the end of the 19th century, tango moves its steps towards the world, conquering the collective imagination with its charge of tumultuous and fragile emotions. Tango is not just a dance: it is a music that nourishes with sadness and loves told by the touching sound of the bandoneon and the vibrant accents of the guitar.

But Tango is even more.
Research now confirms the effectiveness of "tangotherapy": not only for movement and equilibrium, but also for mood and memory. Argentine dance works because it has rhythm and a pattern of fixed steps forward and backward and it is used for the advancement of well-being and health. Tangotherapy has already been successfully adopted as a therapy for Parkinson's disease and the many steps and movements of tango can stimulate Alzheimer's sufferers to recover some fundamental motor skills such as equilibrium, lengthening, posture and coordination.

Teacher: Daniela Fazzina, professional dancer since many years.


The rules of spacing will be respected: 2 meters. Compulsory mask (except for married couples). Bring the bag to store your shoes and bags.

Goals and Program
BEGINNERS
"Basic alphabet": provides for the introduction and study of the basic elements essential for learning the Tango language.
Balance and weight

Technique and control

Marcacion and listen

Movements and steps
INTERMEDIATE-ADVANCED
Maintaining the information of the basic teaching will deepen the themes.
Complex sequences

Dynamics in closed embrace and open embrace

Interpretation of the different orchestras

Adorn for men and women
THE POSSIBILITY OF INDIVIDUAL PRIVATE LESSONS OR IN PAIRS IS PROVIDED FOR ALL LEVELS
FEMALE TECHNIQUE SEMINAR<
The third Saturday of each month, at 12.00-13.00
FEMALE TECHNIQUE lessons are also scheduled, on the third Saturday of each month, held by Daniela Fazzina.
During these lessons, elements such as posture, balance, axis, adornments and musicality will be explored. Some classes will be dedicated to the preparation of short choreographic sequences on orchestra.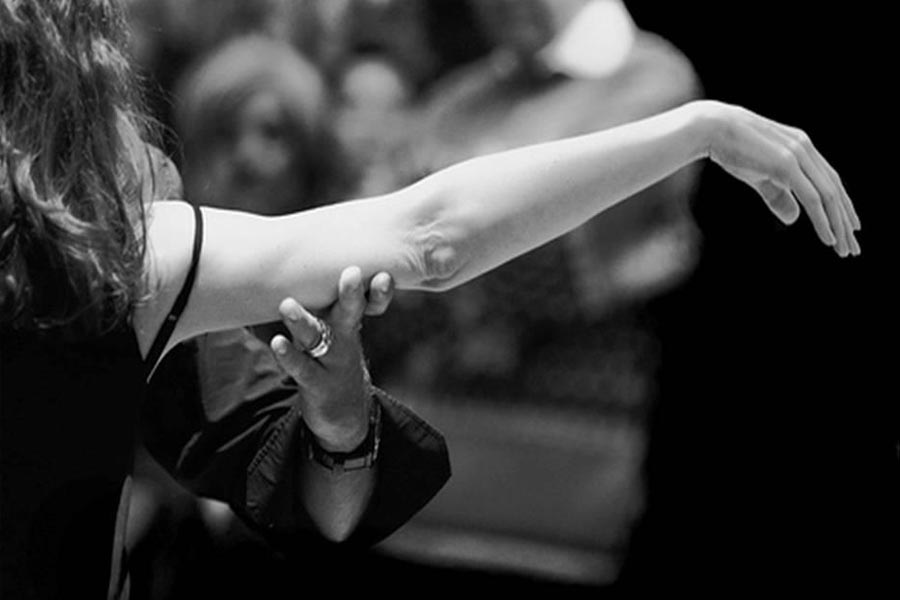 Daniela Fazzina
Passionate about dance since her childhood, she began studying classical dance at the age of 5, and later also devoted herself to artistic gymnastics. In 2005 she began his journey with Tango. She studied it over the years and studied it in Buenos Aires for three years, perfecting it. Continuing around Europe with some of the most illustrious Argentine professional masters, including: Graziela Gonzales, Sebastian Arce y Mariana Montes, Sebastian Achaval y Roxana Suarez.

In 2007 she started to dedicate herself to teaching Tango at the "Principessa" dance school, the "Comuna Baires" theater, the "Il Principe" and "Il Circolo Filologico" dance school in Milan. She also teaches at the NoiVoiLoro association in Erba, the Latin Empire in Arcore, and at the cultural association il Melograno in Castellanza. She has performed in various milongas and theaters including the Manzoni Theater in Milan.

Her teaching is structural, based on a solid technique, elegance, total listening, and fluidity of movements, accompanied by great passion.
For more information